Big surprise here… I haven't posted lately.
It's not that I haven't wanted to. In all honesty, I really just haven't thought about it much. Partly – or maybe mostly – that's because I have a problem with focus.
Despite the fact that I'm only a part time employee at my "day job," I feel like I've been busier than ever this year. Part of it is that I work at a church and there have been a number of ministry related things going on, some of which have involved travel, that I've been part of outside my normal work for the church. Part of it is that I've already traveled 3 times this year for family-related stuff (my dad's 80th birthday, my parents' 50th anniversary, and my in-laws' 50th anniversary). It's been great, but travel of any kind is both time consuming and disruptive. And it can be hard for me to get back on track when I get home.

Part of it is that I've taken on some additional responsibility at How To Think Sideways, the writing community I'm part of.
So, yeah. I've had a lot on my plate. And my reality is that I am not great at switching between tasks. I get involved doing something, and I will do that until it's done, and then move on to something else. Unless I'm feeling mentally burned out, in which case I'll move on to Face Book, or staring at TV, or reading a book.
And what all this means is that I haven't had the mental energy to focus on the thing that I really want to be doing which is writing. Writing on my blog. Writing fiction. Brainstorming stories. Planning out some non-fiction. Working through writing challenges and classes. Getting better connected with the writing community at large. These are things I want to do. These are things I feel called to do. They're things I'm passionate about that I have let get pushed aside by things that, while they aren't unimportant, don't give me the same kind of satisfaction that writing does.
So here's my plan. I'm taking on a challenge on "Intentional Blogging" that's being hosted by Jeff Goins, a blogger, author, and outstanding human being. Hopefully, it will help me get back on track with my regular writing habits. The blog I'm officially taking through the challenge is Create Activate – a blog I started (but never properly followed through on) with the intention of having it be something of a clearing house for all things creative, and encouraging others to explore their own creativity as well. However, I expect to let some of that also spill over onto this site, as well as ElizabethMcCleary.com, so hopefully you'll be seeing a lot more of me all over.
I also plan to participate in NaNoWriMo this year.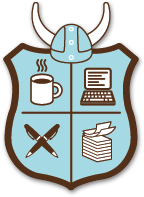 I'll be in California for part of that time, so it will be interesting to see how much writing I can complete under duress. But I have a visceral need to get back to writing fiction as well as non-fiction, so I at least have to try. Since my time won't be entirely my own, I may be a NaNo Rebel and work on flash fiction and short stories, but I do want to get to 50,000 words if at all possible. To help me, I'll be using techniques I've learned in Holly Lisle's Free Flash Fiction Class, as well as her Create a Plot Clinic. (And, full disclosure, those are affiliate links. If you use them and buy something, I might receive financial compensation.)
Also in the fiction arena, I'm behind on my promise to create another short story installment in the LightBringers world. (If you don't know what I'm talking about, you can get a free copy of my first short story here.) I had hoped to have something published before now and it didn't happen. Instead, I'm committing to have something ready to publish by the end of the year. Even with other stuff going on, I should have time to write and edit something of around 10,000 words. Feel free to hold me to it.
Anyway, with all this ahead of me, your encouragement is welcome. And if you want to join me in any or all of these challenges, let me know! I'd love to have the company.